Zoho Business Software for Marketing Agencies
Many marketing agencies still rely on PowerPoint and Excel to report campaign results to their clients on a monthly, and sometimes even on quarterly basis. 
However, a number of agencies are now moving towards providing their clients with personal dashboards designed uniquely for them and developed using highly cost effective online, Cloud based, Business Intelligence (B.I.) applications.
By developing unique client dashboards these agencies are moving up to a proactive approach rather than a reactive approach to client reporting. Furthermore, this approach is also assisting the agencies to drive business growth by introducing new revenue streams through more refined and focused reporting products. 
The B.I. app. Zoho Reports, with its powerful and easy to use on-demand reporting and analysis features, can provide your clients with all the reports, charts and dashboards that your client requires.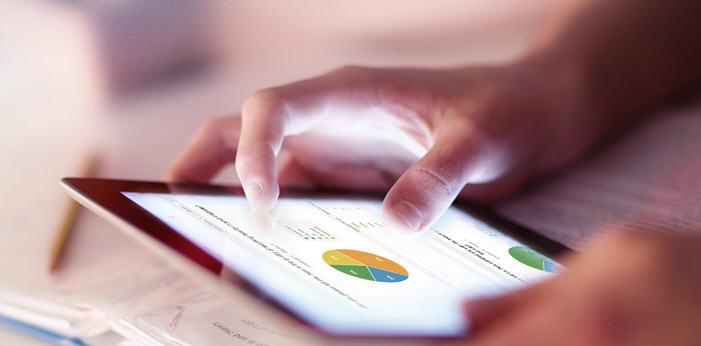 Zoho offer a full suite of tools for marketing agencies
Click here to see the Google Adwords Campaign Performance Analysis on how Zoho Reports can analyze the performance of an Adwords account at the campaigns level. 
Sure Google can provide similar reports and charts, but how do you provide your client online access to not only Google Adwords information but also to analytical information from social media posts, industry news and social analytics?
The answer is to design unique dashboards for your clients using marketing campaign information developed and managed by you.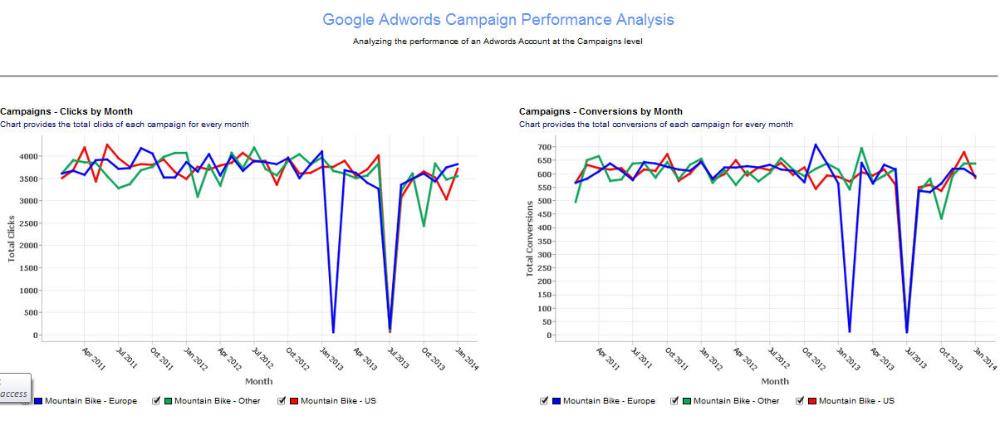 Zoho Reports provides a powerful platform for data analysis
Today clients are demanding weekly, daily, or even hourly, reports on critical campaigns. Being available online, Zoho Reports is always live and can be updated with campaign information from Google Adwords, Facebook, statistics from publishers etc. Indeed almost any online source that is available to your agency. 
Agencies can also control exactly what results your clients can see and how they are distributed, e.g. totally online 24/7, static reports distributed by email etc.
And the dashboards that you provide your clients can also be branded with your and your clients' logos, and can also be seamlessly integrated within your agency website if required.
What all this means is that agencies are creating a much more engaging relationship with their clients compared to traditional slides and reports.
You can see more information about Zoho Reports here. 
Marketing Agencies need to manage and track sales like any other business.  What better solution is there to track sales and marketing efforts than Zoho CRM? 
Zoho CRM is affordable, cloud based customer relationship software that helps companies manage and improve their sales efforts, from lead generation and lead capture, to sales closure, customer support and 360 degree customer marketing and retention.
Extensive reports are available within Zoho CRM that will allow you to track sales pipeline, sales activities, sales by month, by user, marketing campaign ROI and many more.
Marketing agencies also have numerous projects to manage in parallel, spanning multiple teams.  
A project management tool helps them to do this more effectively as tasks can be assigned and tracked and work timed against tasks. 
Documents such as images, proofs, contracts, content and so on can be centralised.
Topics such as creative look and feel, content and test results can be discussed online in forums.
Team timesheet data can be tracked and analysed and, if applicable, invoices can be created for billable work.
And finally, clients themselves can be involved directly in the project by adding them as portal users - you can then assign tasks to them, have them upload client specific documents and participate in online discussions so that all project information and communication is centralised.
Having several systems is all well and good, but ultimately what is needed is a way to consolidate the data into useful and meaningful dashboards that can be used by the teams to track sales and project status.
Once again, enter Zoho Reports!
The Zoho Reports Advanced CRM Analytics synchronisation feature provides real time data in a consolidated and readable format, providing information such as:
Sales manager performance




Sales cycle duration by sales manager




Lead conversion count by owner



Sales by lead source




Pipeline by probability & stage




Monthly sales trends over time



And the Zoho Reports Advanced Project Analytics synchronisation provides reports such as:
Timesheet report by project




Timesheet reports by staff




Projects status by task




Overdue tasks




Billable v non billable hours




Effective ROI by projects




Top project members




Top projects by billable hours




Top / bottom billed staff members




Burn down report by project




And many more! 



Data can be consolidated into dashboards for use in client reporting processes or for internal project reviews with Senior Management, Project Managers and teams.
The result: more efficient operations, more consolidated data and vast savings in terms of man hours spent creating and sending manually written reports every week.
Zoho's suite of online business software is perfect for marketing agencies.
For more information on how best to implement the above key Zoho business solutions into your business, please contact Mangoho here.
Alternatively, why not try our free Zoho setup service and we will set you up for free in one business day so you can try the software for free. Most of the Zoho apps have a lifetime free version, no obligations to take a paid license, no credit card required, if you like it you can subscribe to upgrade if needed, if not, you simply stop using it. Easy!