Zoho Projects - Manage Your Projects Online
Web Based Project Management Software
Plan, Track and Collaborate Online with Zoho Projects. Zoho Projects is an online project management solution that manages all your planning, tracking and collaboration activities and is a perfect project management tool that will improve the productivity of project members when working on your customers' projects and also your internal projects.

Project managers can plan and track project milestones, assign tasks, set deadlines, log and track issues, log and understand project requirements, obtain online project status reports, and manage contractors, and also your own internal project team.

Customers can view milestones and tasks, track project progress, reply to questions, understand and discuss issues online, and upload project documents.

And team members can update task completion status, show current activities in a live feed, add task specific comments, collaborate in ideas and solutions, review project documentation, and also chat online with other team members.
A Mobile Project Management Solution
Zoho Projects also has a FREE mobile app for all users. This means you can manage your projects from your iPad, Android tablet, even your mobile phone, wherever you are, and any time.
Using the mobile app project managers and team members can add and manage tasks, add comments to task discussion threads, upload documents, track forums and more.
Zoho Projects productivity boosting software provides the platform to really increase productivity and efficiency as you teams do not need to be tied to their desks to check project status.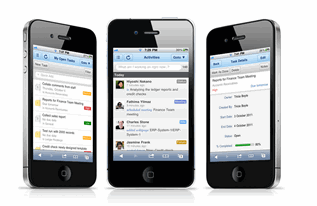 Zoho Projects has a free mobile app
An Affordable Online Project Management Solution
Zoho Projects subscriptions include free and paid editions, with the Premium paid version being superb value at starting at approximately GBP 200 per year.
For more information on Zoho Projects online project management software for businesses in Wales and UK as well as Zoho consulting services and advice on how this app can be of benefit to your business, contact us here, or email us at info at mangoho dot com.