Professional Business Websites
Zoho Sites, a Drag and Drop Website Builder
Zoho Sites is an online website content management system (CMS) that will dramatically help you to promote your business with drag and drop updates for images and videos, dynamic website content updates, mobile device optimization, third party interfaces to YouTube, Google AdWords, Google Maps, Google+, Facebook, Twitter, Flickr, Picasa, and much more.
Zoho Sites comes with over 25 pre-built templates for various business types that are already optimised for PC, laptop, tablet and mobile phone use.
The templates can be tailored in terms of layout, images, menu structure and also colours to match the look and feel you want to portray for your business.
The advantage of using templates is that your website can be up and running in as little as a few days for a basic website, a few weeks for a larger one with more pages.
It also has a tremendous positive impact on costs compared to doing 100% custom website design, whereby you'd need to hire a website deign company, and go through several iterations of designs and approvals.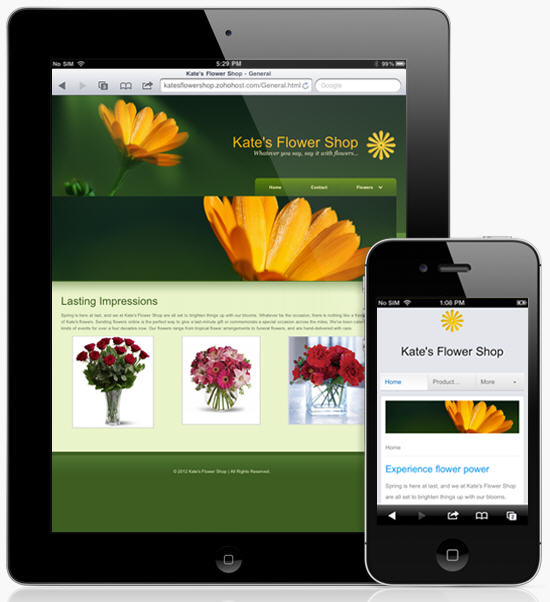 Zoho Sites websites are all mobile friendly
Make Your Website Work For Your Business
Zoho Sites website content management system is so easy to use. After implementing your website template we will train you how to use the software so that you can take control of your website and make it work for your business.
Add articles and information

Add details of services and special offers

Upload images to help explain your products and services, create an image gallery

Create case studies of work and testimonials from satisfied customers

Upload videos of your work, processes, premises, products or even video testimonials

Link your social media pages so people can keep in touch via various channels

Create links to download product brochures and other documents
Your business website should not simply be 'eye candy', something you ave because everyone else has one. It should not be just an 'expense', make your business website an evolving part of your business, a means to generate revenue, a marketing tool for your business.

Zoho Sites allows you to take control and make your website work for you.
Template setup packages from just 99 GBP with 5 website pages!
Zoho Sites subscriptions include free and paid editions, with the Professional paid version being superb value at just 39 USD per year.
We have extremely affordable packages that start at just 99 GBP up to 899 GBP, including full setup and up to 30 pages, contact forms, newsletter form, dynamic blog module, embedded videos, hosting and even assistance with content so that your site gets found on search engines.
Mangoho are Zoho Partners UK and provide Zoho cloud software for businesses in Wales and the rest of the UK.

If you are interested in implementing a Zoho Sites website, or if you would like details of our small business website design packages, please contact us here.