Custom Packages to Suit Your Business and Budget
The following small business packages have been designed to get you started on the road to more efficient business operations, allowing you to spend more time on what you want to do: running your business. They all utilise Zoho online cloud software, meaning there is no hardware, no software, not maitenance hassles for you to worry about. All you need to use the software is a browser and an internet connection and as we know small business owners are busy business owners, many of the apps listed below can be used from your mobile phone. We have split the packages below into 4 basic types of business, more can be tailored upon request.
Zoho applications for small business have been designed for you to be more efficient so that you can spend less time on mundane matters and more time managing leads and customers, building relationships and, vitally, improving and maintaining customer satisfaction.
Get A Professional Mobile Ready Website For Your Business
Zoho Sites provides you with everything you need to quickly and easily build your own, mobile ready, business website.
Zoho Sites uses a drag and drop user interface so there is no need to know HTML which means that it is easy to add in videos. images, animations, maps, etc.
Update your website in real time to, for example, add new products or prices or update your client references.
Manage Your Customers And Close More Deals
Zoho CRM is the award winning online CRM solution from Zoho that packs some heavy fire power when it comes to functionality. It is also perfectly suited for the small - medium business segment in terms of license flexibility (no yearly lockin strategies) and license costs (the Standard edition is just approx 8 GBP per user per month.
The CRM is highly flexible and can be customised to match your business as part of our Zoho consulting services. Need a new field or different Drop Down values? Want to change the screen layout or create email templates for repetitive style sales emails? Want your own custom quotations and invoices with your corporate logo for increased corporate branding? No problem, we will do it all for you as part of our Zoho implementation package.
Zoho CRM helps you build, maintain and improve customer relationships, which, in turn, helps you to grow your business.
Manage all your sales, marketing and inventory with Zoho CRM, automatically capture leads and enquiries from your website, and introduce automated workflow to improve your sales processes.
Be better informed about your leads and contacts by linking their Facebook and LinkedIn profiles directly from Zoho CRM.
Manage your sales cycle better with Zoho CRM's opportunity tracking module so that you can stay on top of all of your leads and close more deals. And Zoho CRM's reports and dashboards provide you with detailed information on vital information such sales cycle stage, deal probability and forecasted revenue.
Zoho CRM's account management features include storing all customer, contact, and opportunity information in one place which means that quotations, sales orders, and invoices can be easily, quickly and professionally produced.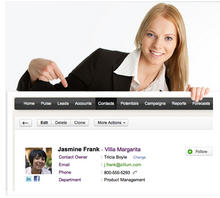 Zoho CRM is a great tool for managing your customers
This powerful sales automation software allows you to manage leads, convert them to sales and record all communications such as calls, emails, tasks and meetings. There is also a team calendar that happens to integrate to Zoho Calendar which means your entire team can collaborate on team activities even if they are not a CRM user.
Sales opportunities can be tracked to closure and processes such as repetitive sales emails and quotations and invoices can be automated.
Zoho CRM really does form the foundations of your entire business operations as it now integrates with other Zoho apps such as Zoho's accounting, project management, helpdesk and online reporting apps.
Basic Package plus HelpDesk and KnowledgeBase
For small businesses where support productivity is vital, the Zoho Support online application allows your support personnel to access accounts, contact, product and customer ticket information, and, at the same time, supports your client base by providing your customers with an online customer support portal.
This package includes Zoho Sites and Zoho CRM plus the integrated HelpDesk application, Zoho Support.
All three applications are online and web based allowing you to streamline your business and dramatically increase productivity and customer satisfaction.
Support Your Customers And Provide First Class HelpDesk Service
Zoho Support is easy to implement and you can quickly create automated workflows for your customer support processes.
You will quickly trim down your response times to customer requests and also reduce your support costs with Zoho Support using superb HelpDesk features such as ticket management, social media support, knowledgebase, including HelpDesk solutions for your support team, customer support portals, contracts and service level agreements (SLAs), alerts and notifications, and automated workflows.
If you need to better manage your customer support requests, quickly provide solutions for your staff and clients, improve the management of contracts and SLAs, and be better informed your customer support performance, then you need Zoho Support.
Basic Package plus Project and Task Management
Zoho Projects helps your clients, project managers and project team members to better collaborate with each other by use of feature rich functions such as creating tasks, milestones, dependencies and deadlines.
Improve project planning and reduce project and development times by having all project team members working on the same page wherever they may be in the world. As with all Zoho applications, Zoho Projects is an online, web based solution and is accessed through the Internet.
This package for small businesses includes Zoho Sites, Zoho CRM, Zoho Support and the project planning, tracking and collaboration application, Zoho Projects.
Manage Your Projects Online
With Zoho Projects you manage your milestones, task lists and tasks and assign start and end dates and task owners, with the Projects dashboard providing a complete online overview of all the project activities to all team members.
In addition to the dashboard, all project team members will be impressed with other Zoho Projects' collaboration tools such as the projects wikis, chat, and forums.
You can easily manage and share all your project files in a central data warehouse, record time and even track and manage project "bugs" or issues.
On top of all of this, you can do it fromy our mobile phone with the free mobile edition!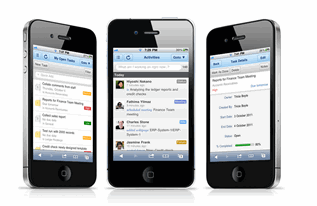 Manage your projects on the go
All of this means that Zoho Projects is an ideal solution for construction businesses, real estate operations, computer and software companies, consultants and even sales and marketing teams and many more industry segments..

Team productivity will be improved, project expenses will be reduced and collaboration will be greatly increased with Zoho Projects being available to project team members anywhere, any time, 24/7, 365 days/year.
Basic & Service Packages plus Invoicing and Online Payment - Accounts Receivable
This package is designed for business that need more control of Accounts Receivable and, in particular, improved invoice and payment management and includes:
- Basic website built using Zoho Sites (online website builder)
- Zoho CRM online customer relationship management solution
- Zoho Support online HelpDesk and knowledgebase solution
- Zoho Invoice online Invoicing solution - get paid faster, online
Manage Your Invoices and Get Paid More Quickly
By implementing Zoho Invoice with other other Zoho applications you will be able to more effectively manage your entire business, online.
Manage all your invoice processes online; create invoices and quotes in multiple currencies and languages. And speed up your invoicing by setting up recurring invoices.
Get paid more quickly by accepting payments online; Zoho Invoice supports Paypal, Paypal Payflow Pro, Google Checkout and Authorize.net for online payments.
Zoho Invoice manages and tracks all your expenses which means that you don't forget to invoice your clients for expenses such subsistence, travel and lodging.
All project time worked, included contractors, can also be recorded by Zoho Invoice which means that you can create and send invoices for your all your projects, in your customers' currency.
Zoho Invoice management reporting and dashboards improves the control of your AR by providing you immediate access to vital client information, manage and track outstanding balances, and quickly and very easily apply payments to outstanding invoices
Want To Know More About Our Online Zoho Business Applications For Small Businesses?
At Mangoho we get you up and running very quickly even though our clients have different needs. One reason for this are our Zoho application packages and another is the training that we can provide you with.

We have designed the Zoho application and training packages to fit most budgets.

Package #1 - Basic provides you with Zoho Sites and four users of Zoho CRM with subscription fees of approximately £399 per year, 16 hours online training with one year's support for £1,639.

Package #2 - Service provides you with Zoho Sites, four users of Zoho CRM, and two users of Zoho Support with subscription fees of approximately £585 per year, and 20 hours online training with one year's support for £2,860.

Package #3 - Projects provides you with Zoho Sites, four users of Zoho CRM, up to fifty current projects in Zoho Projects with subscription fees of approximately £670 per year and 20 hours online training and one year's support for £2,860.

Package #4 - Sales-Service-AR provides you with Zoho Sites, four users of Zoho CRM, two users of Zoho Support, and unlimited number of users of Zoho Invoice with annual subscription fees of just over £1,000, and 24 hours online training and one year's support for £3,120.

For more information on the cloud based Zoho business applications' features and details of Mangoho's Zoho training and Zoho support packages for businesses in Wales and UK contact us here or drop us an email at info [at] mangoho dot com.